KOP RALLIES TO HELP DYING REDS FAN LIAM
Paul Rogers 20 April 2008 (Source:
LiverpoolFC.tv
)
Liverpool supporters have once again proved just why they're held in such high esteem all over the world after rallying round to bring some joy to a young Liverpool fan dying of cancer.
On the eve of the Fulham match, liverpoolfc.tv published the tragic story of Liam Harker, a 17-year-old Liverpool fanatic from Darlington, who was presented with a signed shirt by his Anfield heroes on the day that doctors admitted there was nothing more they could do to save his life.
Liam only found out he was suffering from stomach cancer six weeks ago after he was admitted to the Royal Victoria Infirmary Hospital in Newcastle. After being treated with an intensive course of radiotherapy, Liam was told on April 3 that he had beaten the cancer as the tumour had started to shrink.
Things took a serious turn for the worse the following day when Liam became very ill however. X-Rays revealed that the cancer had not only returned, it had spread throughout his body. It was at this moment that his parents were told that more radiotherapy would only help prolong his life by a matter of weeks.
On April 11, Liam was told he had just two weeks left to live and was allowed home to die. Macmillan nurses are on hand round the clock to help him and his family at this incredibly difficult time. Upon arriving home, Liam's wish to his dad was to spend his final days in a shirt signed by the players he idolises. He also asked his dad to bury him in a Liverpool shirt when he dies as he's lived and breathed Liverpool Football Club all his life.
When news reached the club of Liam's plight, the youngster's dad was contacted and Liam was invited down to Melwood on Monday to not only pick up a signed shirt but also be taken on a tour of Melwood and meet not just the players but also Rafael Benitez.
Unfortunately, Liam was advised by doctors that he wouldn't be able to make the trip to Liverpool due to his worsening condition as even short trips between his home and the hospital in Newcastle for radiotherapy sessions take too much out of the youngster.
However, while Liam couldn't make the trip to Melwood to pick up the shirt, on Friday one arrived special delivery at his home in the North East from Liverpool complete with the autographs of all his heroes.
News of Liam's brave battle struck a chord with Liverpool supporters all over the world and fans on Red and White Kop, the independent Liverpool website, and many other official and unofficial fans forums took it upon themselves over the weekend to try and send a message back to Liam that he was never going to walk alone. The idea was simple: make a flag with a message to Liam, unveil it during the Chelsea game on Tuesday, alert ITV to Liam's plight and pray that the TV cameras pick it up for Liam to see watching back home in his bed in Darlington.
Now today, a picture of the first banner has emerged. Put together by Liverpool supporter Mark Hanson from Blackwood in South Wales and his girlfriend Elaine, the flag will start out in Row 10, Block 108 of the Kop before hopefully making its way down to the front.
"I was in tears reading about Liam's story," Mark told liverpoolfc.tv today, "and when someone started the thread about banners, I said I would help if needed as I'd done a few before. A few others said they were trying to get banners done, but had problems with time.
"My girlfriend was on her way down to South Wales to see me as it was her birthday on Friday, but she's a mad red as well, so when I told her that I was doing a banner, she was more than happy to help.
"On Saturday, we went and bought the material and spent all day cutting out lettering. I'll be gluing it all together today, as the girlfriend is off back home.
"The only aim out of doing the banner is to make a fellow Red smile in his last few days. There's nothing we can do for the guy but to make him happy for a little while longer. Hopefully the banner will be picked up by the TV cameras but after Tuesday, I aim to send it up to Liam's house so he can drape it over his bed."
Liam's friends and family are hoping Mark's banner is just the first of number of flags planned to bring some joy to the 17-year-old on Tuesday.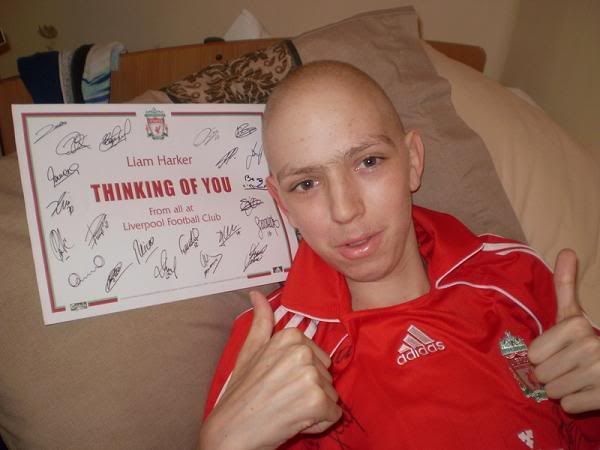 Related links
WHY LIAM HARKER WON'T WALK ALONE
A banner for Liam
=============================================================
雖說這世界上,每天都有千千萬萬的生命流逝,但作為一個 KOP ,看到這篇報導時還是很感動。不單單因為故事的主角也是一位紅軍迷,而是,我被他對球隊的愛震撼到了。
"He asked his dad to bury him in a Liverpool shirt when he dies as he's lived and breathed Liverpool Football Club all his life."
到了生命的盡頭,仍然如斯的牽掛惦念,也許我們下次造訪安菲爾德,會遇上夜夜夢迴這片綠茵場上的熱血靈魂 Liam 。
我在此也送上自己的祝福: Dear Liam, you'll never walk alone.